Bandanas on and ready for the walk to begin.
The event was sponsored by Bought By Many, unfortunately it was more Confused.com!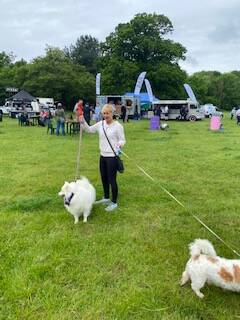 Tina taking control of the Boys - well nearly!
Tina and Kevin enjoying breakfast :-)
I have to admit I did expect more stalls selling doggy merchandise etc.
A rather glitzy compentator kept us informed on when the walks would be starting
TV presenter Michaela Strachan opening the event
The countryside and views were fabulous but unfortunately the walk was not suitable for our disabled dog parents to have taken part.
Marti enjoying the last of our icecream
Everyone received a rosette to mark their achievement on completing the walk.
AT LAST! After 15 months of not being able to attend any dog events The Big DogWalk was finally here. I had booked our tickets to attend the event back in December 2020 and the date was moved once due to Covid 19 restrictions here in the UK but today was the day - yesssss!
Ticket problems.
I am not sure if anyone else had this problem but our tickets were not emailed to us until three days prior to the event. According to the SEE Tickets website (the company in charge of discharging confirmation emails and the tickets themselves) if we had not received our tickets 7 days prior to the event we should contact them. I knew of friends who said they had received their tickets so as mine had not arrived, that is what I did. All I got back from SEE Tickets was a copy of my confirmation email without any tickets. That happened four times and, yes, there was no one to physically talk to.
I was beginning to think this had been a scam so in deseperation I contacted the Dogs Trust and explained the situation who kindly put me in touch with the Big DogWalk organisers themselves. I was reassured that my tickets would be with me the following morning, and thankfully they were.
More confusion.
I had printed off my eTickets and placed them in my dog walking bag ready for the day but then more confusion! SEE Tickets stated that to gain access to the event we could print off the tickets or have them scanned directly from our phones. My sister and I were travelling to the event seperately inline with Covid restrictions and I did not know where our tickets would be scanned, such as access to the car park, so we planned to meet up at a spot up the road from the event for me to give her her printed ticket should we become seperated.
The night before I then read the extra information The Big DogWalk organisers had just sent to us and it stated "do not print off your tickets" but to have them ready for scanning directly from your phones only.
This seems like a small matter, because after all, we did finally get our tickets and gained access to the event but it seems to me that there were three seperate organisations here; the Dogs Trust; the Big DogWalk and SEE Tickets and neither of them seem to have gotten together to establish what each were telling members of the public! Maybe something all three could learn from.
Doggy Bandanas, photos and breakfast!
The first thing that greeted us were two young ladies handing out our dogs Big DogWalk bandanas. My sisters' dog, Kevin, was thrilled to be at a real life dog event and greeted EVERY dog as if it had come to see just him. We fitted our dogs with their bandanas; took our photos and then stopped for breakfast. Our walk was not due to start until 10:30 am and we had arrived by 9:30 am so had plenty of time for coffee, cake and dog shopping :-)
Stalls
There were not as many stalls selling dog merchandise as I had hoped - about 6 in total. They sold the usual leads, treats and bandanas and bow ties but we could not resist the Dogs Trust stand where we purchased our bright yellow t shirts sporting the DogsTrust logo and a small treat pouch each for the Boys, Kevin and Marti, my dog.
Well mannered.
Whilst waiting for our walk to start two little girls approached me and asked politely if they could say hello to Marti. I agreed and Marti was thrilled with the attention whilst I answered their questions of what breed he is, what his name is and so on. I praised their mother for raisng two well mannered little girls and for teaching them the correct way to approach a dog. I wish all parents taught their children this. Not all dogs like children and find them fearful. So children please always ask before touching a dog or puppy.
The Walk
The walk itself was set around Loseley Park Estate in Guildford, Surrey. Beautiful countryside.
The walk was opened by tv presenter Michaela Strachan, fresh off of the Spring Watch tv programme. She sat by the start line of the walk and my dog, Marti, could not resist giving her hugs and kisses! He does love brushing shoulders with celebrities, or maybe he thought she had come to see him ;-)
There were several walks on the route that we could choose from. There was a puppy walk; 2K, 5K or 10K. My sister and I had decided to opt for the 5K walk because we did not want the dogs to become too hot and tired if the weather had been very hot.
The walk started fairly well; there were fewer people than I had expected and we all had to keep our pooches on their leads throughout the walks regardless of the distance we had choosen to do.
I was very impressed that despite there being hundreds of dogs on the walk that I did not hear a single growl or snap between them; even though some dog parents foolishly allowed their dogs to charge up to other dogs on the end of very long retractable leads.
Not suitable for our disabled doggy parents :-(
Early into the walk (about 10 minutes) we came upon an organisers tent with dog water and shade from the sun. It was already apparent that some of the dogs on the walk were flagging and needed to stop for a rest.
Shortly after this stop we came upon a country gate, known as a kissing gate, which only allowed one person and their dog to pass through at a time, so a bottle-neck for the walkers but we waited in the shade and my sister had to have a chat with Kevin who was making it clear he was about to take a dip in the lake by the footpath. At this point I remarked to my sister that this walk was definitely not suitable for our disabled doggy parents and what a shame the organisers had not thought about this. We had already walked over hills and fields and now going through a kissing gate would have made their attendance impossible. Why should these walks only be open to abled bodied dog parents? Afterall I am sure Loseley House does not turn away disabled visitors and something could have been arranged for them to take part in on more suitable ground for their disabled scooters etc.
Health & Safety was non-existent!
We continued on and the walkers started to thin out. The weather was very warm and we began to wonder when the next dog stop would be. We were following brightly pink arrows along our route which were our only guidance. We suddenly found ourselves on public footpaths which were narrow and muddy. Frequently we passed joggers; cyclists and local walkers, some of which had their dogs off of lead and were bothering our dogs who were not allowed off lead.
Now it might be a good idea to now mention that my sister works in Health and Safety and carries out ALOT of risk assessments and I have organised ALOT of dog events so I am used to the very basic health and safety requirements which, between us, we decided were very lacking at this event.
For a start there were no other dog stops for the dogs. I wondered what would have happened if a walker had fallen or needed emergency first aid; how would any of the organisers have known there was a problem on one of the routes; how would an ambulance have gotten to them or worse what would have happened if a dog had needed a vet? Some of these dogs were very big and trying to carry any of them back to safety would have taken alot of effort from several people, not just the dog parent. I told my sister that when I had done the Moon Walk for breast cancer awareness that we had been supplied with a route map and there had been alot of stops and check-in points along the way and there should have been the same on this walk. We were in the heart of the British Countryside, it was remote and we did not know if we were close to local houses or roads where we could head towards if a problem arose. I checked on my maps on my iphone and all it showed was we were located in the middle of an expanse of green! Not very helpful at all.
Eventually, towards the end of the walk we came across two ladies sitting under a tent. I asked if they were part of the organisers as they were not wearing or showing anything to say they were officials; one lady said they were supposed to be and had just been told to sit there and answer any questions the walkers may have but that she didn't really know much about it. Both my sister and I remarked how lacking the health and safety was on the walk and asked what they would do if anyone needed first aid treatment; she actually agreed and said she would pass the feedback back to the organisers. A bit late, me thinks!
Arrow confusion
As there had been no indication along the route as to where we were or the distance we had completed, I was relieved when I recognised the beginning of the route and that were heading to the finish line. The dogs were beginning to get tired and the weather was warming up. At the junction where the start of the walk and the end of the walk crossed there were a number of pink arrow signs; there was nothing written on any of them, it was just an array pink arrows pointing all over the place. I started down the hill towards the finish line which was just out of sight but my sister and Kevin began to instinctively follow the other dog walkers. I pointed out that I was sure the finish line was just down the hill and we agreed an arrow actually saying "finish line" would have been helpful at that point!
Cool down and ice cream.
As we crossed the finish line we were each handed a small Big DogWalk rosette to mark our achievement and headed back to the now packed car park to cooldown the dogs and give them a well earned drink.
Once the dogs were sorted out Tina and I rewarded ourselves with an icecream each, which ofcourse the Boys shared with us.
Conclusion
It was fab to be able to attend a dog event again and spend some quality time with my sister but Tina and I agreed we sadly would not be repeating this event next year. Whilst we fully support The Dogs Trust and all of the excellent work that they do, the event itself was lacking in health and safety. The car park attendants were not even wearing hi-vis vests; there was nothing in the car park about not leaving dogs in cars should the weather warm up, which it did, and there was no one to report probelms to or to seek help from if you needed it. I couldn't even see the usual St Johns Ambulance volunteers on the venue which are always present at even local village fates and no details of who the vet on call was. I know some dog parents had travelled along way get to this venue and probably did not know where the local vet could be found.
High Standards
I am used to the high standards set by the Kennel Club at these type of events. It might be worth the Big DogWalk organisers talking to them for some tips. I hope everyone who attended the event today did enjoy themselves and had no problems requiring assistance from the Organisers. Moreover, I hope the Dogs Trust was able to raise valuable funds and donations to enable to continue with their valuable work with animals.