Product Reviews
The items below are products that I have used or use personally and assessed whether they are worth spending our hard earned cash on. I often read "genuine" reviews of people who have purchased items I am interested in if visiting websites etc but when you are buying from shops that information isn't available so I hope you find below of some help with your purchases. Where possible I have given you a link or a website where I purchased it.
www.custompetcollars.co.uk Good quality :-)

I was looking for a new collar for my cat. He does not like tags attached to his collar because they clink against his food bowl and make a noise, but being an outdoor cat I wanted something that will allow someone to contact me in an emergency. I was browsing FaceBook and came upon custompetcollars.com They offered pet collars with your details embroidered onto the collar, so I thought this could be a perfect solution for my problem. They are very reasonably priced, so I gave them a go. I am very glad I did. You can always spot a company who cares about their customers and their products by the packaging they deliver your order in and custompetcollars.co.uk have very unique packaging that I liked before I had even seen my cats new collar. As you can see from the photo great care is taken. As for the collar itself, it is good quality, the embroidary of my surname and mobile phone number is very clear to read and the collars fastening is strong but does have a quick release should my boy get it caught on something during his climbing adventures. My only criticism would be that when I shortened the collar to fit my cats neck part of my telephone number is obsecured. This could have been avoided if the number had been moved slightly towards the bell part of the collar as pictured below. I would still recommend this product however and I would definitely use this company again :-)
Advantage by Bayer A winner against fleas :-)

For flea prevention and flea and biting lice treatment.
Best spot-on flea treatment I have ever had to use on my dogs. It actually works and very quickly. Each pack contains 4 pipettes. Each pipette lasts 4 weeks so each pack give four months treatment for your dog. I bought mine from VetUK.co.uk and each pack was less than £10, costing less than £2:50 a month to treat each of my dogs. So not only a quick and effective treatment but also kind on the pocket. Totally recommend this product over all other, over-the- counter flea products.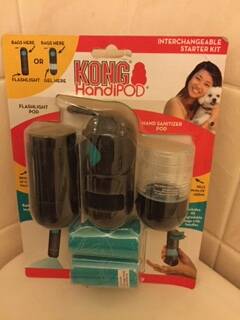 Kong HandiPod Don't waste your money on this :-(

Interchangeable Starter Kit
Priced £13.99.
This product is really just a poo-bag dispenser, and I have plenty of those already but with the dark nights drawing in again and Covid-19 still in our midst I was attracted to this product because it boasts a flash light and hand gel.
Read the packaging carefully before you buy!
Unfortunately I didn't stop to read the packaging more carefully before throwing it into my shopping basket so it wasn't until I got home that I discovered it's a poo bag dispenser but you can have a flashlight OR hand gel, not all three at once (disappointment!) but my error and I will try it out anyway.
Putting it together
The instructions to put it all together are quite clear. The product comes with 45 degradable bags (3 rolls of 15 bags) with handles. The packaging boasts that the hand gel kills 99.9% of germs. I will have to take their word for it because my hand gel pod was empty. I eventually worked out how to prise off the lid to refill it with my own hand sanitizer and attach it to the bottom of the poo bag dispenser.
The flashlight was a bit more impressive. Three AA batteries were included and there were clear instructions on how to operate this part of the product.
Safety precautions
The instructions on the back of the packaging comes in 9 different languages and is so small that I had to get a magnifying glass to read it! It basically reads what comes in the product, tells you how to use the hand sanitizer (that I didn't have) but then warns you not to use it on damaged, sensitive or irritated skin; it then tells you what to do if you get it in your eyes, and the usual warnings to keep it out of reach of children; avoid suffocation and to dispose of bags responsibly. I am sorry but I think all of this information is valuable but seriously too small to be readily read by the consumer. It would have been much better to have included it within the packaging in bigger format along with the "how to use the flashlight" information.
Tidy bag needed
Because you can only use the poo bag dispenser and the flashlight together or the poo bag dispenser and the hand gel pod together at any one time, it means you always have extra rolls of poo bags, the bottom of the poo bag dispenser and either the hand gel or flashlight loose somewhere in a draw or maybe you could store them in a pocket of your dog training bag or walking bag but I think it would be very nice if Kong included a neat little bag to store them in and to keep them altogether.
It fell apart and the gel pod leaked!!!
I filled the gel pod with my own hand sanitizer because it arrived empty. I think in these Covid times we have all improved our knowledge of hand sanitizers and this is a disadvantage for Kong. I was concerned that the lid of the gel pod would leak so after filling it with my hand sanitizer I left it standing in a clean, dry dish in the kitchen. Thank goodness I did, it leaked so badly that I have now thrown that part of the product away. I don't want anything that will leak and stain my clothing or dog training bag.
So I was left with the poo bag dispenser and the torch for my £13.99! I clipped it onto my DogsandBlogs camera bag and before I left the house the torch fell off and the poo bags rolled across the floor. Thinking I must not have push it together properly I put it all back togther and went about my day. Twice it fell apart again and I have had to resort to keeping it held togther with sticky tape!
Better and cheaper alternatives.
Pricing this product up I worked out I could have bought a poo bag dispenser with a roll of poo bags for £2.99 in the local pet shop; a mini torch for £1.99 in Tesco and; a personalised hand sanitizer for £2.50 locally on Facebook, totalling just £7.48; nearly half the price of the Kong HandiPod.
Can I recommend it????
I think you have guessed, that is a definite NO!! Don't waste your money or buy it as a gift for friends, unless you don't like them ofcourse :-0
Karcher OC3 Portable Cleaner

Oh my, this is a must for all dog owners. I use mine to clean off my wellies and dogs after their wet and muddy walks, so no more muddy towels or mud in my vehicle. I have also used it when one of mine rolled in fox poo :-( I was able to jet wash it off of the dog before he got back into my car, making it a much more pleasant drive home! Perfect. This is a mobile, outdoor washer. You charge it up, fill the water tank and off you go. It is small, neat and compact and takes up very little space in my vehicle. Mine was from Amazon and the link is https://www.amazon.co.uk/Karcher-KAR0001-Karcher-Portable-Cleaner/dp/B071HM1SVP/?tag=dandb09-21
The water pressure is perfect for dogs; the noise of the machine took some of my dogs time to get used to but I took it slowly and gently and now they accept it as part of thier walk. The downside is you might have to carry an extra container of water if you are a professional dog walker with alot of dogs to clean down but I still highly recommend.