The Trixie Dog Activity Hip Bag
Comfortable to wear and allows my hands to be free to handle the dogs.
Photo above showing too much "give" at the top of the front pocket which made it feel "bulky".
Photo below shows how I quickly remedied the problem making it an ideal dog walking bag for me.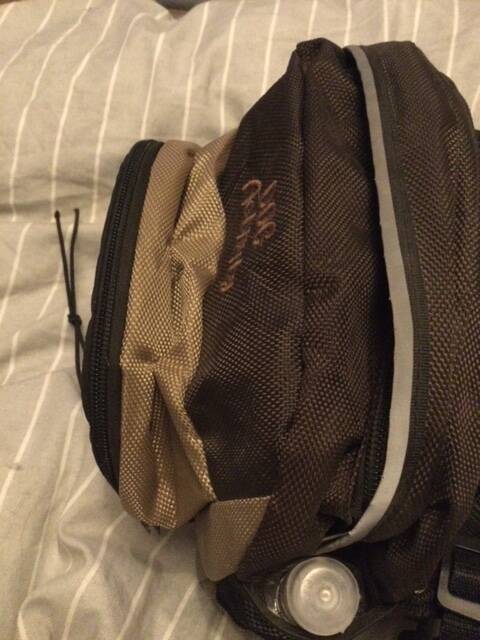 Some dog parents have hundreds of pairs of shoes; some love buying leads; me I LOVE a good dog bag so when I saw the Trixie Dog Activity bag priced £11.99 in my local pet shop, I had to buy it and try it out.
About the product
It is described by the manufacturers as a Hip Bag - hands free due to leash-attachment. It fits waists from 57 to 138 cms.
Trixie state as follows:
* ideal for joggers, nordic walking and trekking - my thoughts are they are missing that it is ideal for normal dog walking too.
* special leash system evenly spreads the pull of the dog across the walkers' waist and gives more freedom of movement - I personally would not attach my dogs lead to the clip supplied on the bag for several reasons but the main one being that they themselves give at the end of the description "Warning: Please be aware that there is a risk of falling if your dog is on the leash" It does not give a maximum weight of the dog that the leash can tolerate either so I would recommend that you do not use this function; I actually cut mine off my bag!
* pocket with several compartments
*karabiner hook for keyring and net pockets
* with reflective piping
* nylon/polyester
In reality
Actually it is very comfortable to wear despite everything it carries. I have found in the past bags like this have become very uncomfortable and rubbed around my waist due to the weight of everything you carry in it but not the case with this one. It is padded in all of the right places (something the manufacturer fails to point out!) and it wasn't too bulky to wear although I admit it does look like that in the photo.
I like to store my mobile phone in the front pocket to make for quick access if I need it but found that pocket had too much "give" at the top preventing it to sit snugly to the bag. To remedy this I just took my needle and thread and reduced the top part by folding the access material into the bag and stitching it into place.
I also found that the belt around my waist began to slip during my dog walks allowing the bag to slide down to my hips. So I just re-adjusted the belt strap and secured it in place with a couple of stitches again using my needle and thread.
The bag carries everything I need on my dog walks. It keeps everyhting clean and dry and allows me to have my hands free at all times to handle the dogs.
Conclusion
I would recommend this bag to my fellow dog parents. It is good value for money and will last you for many good dog walks for years ahead.